Onion Rings

1lb Breaded Onion Rings served with Chef's Ring Sauce
Traditional Bruschetta
Tomatoes, red onion, fresh basil, and garlic finished with balsamic glaze and olive oil served on crostini's, topped with parmesan.
Fried Cheese Curds

Wisconsin Fresh Local Battered Cheese Curds served with Ranch.
Scallops & Pork Belly

Atlantic Scallops seared and nested atop fried Pork Belly slabs, and finished with a Chili Infused Honey.
Chicken Wings

Bone-in, breaded and fried.  Tossed in your choice of sauce, BBQ, garlic parmesan, sweet chili, or buffalo.
Surf 'n' Turf Lolli Pops

RBJ Ranch Beef Tips marinated and paired on the grill with tiger shrimp, and asparagus spears finished with bearnaise.
French Onion Soup

Traditional style French soup, and Home Made Croutons, smothered in Mozzarella Cheese, then baked.
Chicken Caesar Salad
Grilled Chicken Breast, chopped romaine, tomatoes, cucumbers, croutons, and parmesan cheese.
The Lodge Burger
1/2 # RBJ Ranch Local Fresh Ground Beef served with American, Chedder, Mozzarella or Swiss.  Topped with Bacon, Lettuce, Tomato, Onion, and served with Pub Fries.
Italian Chicken Sandwich
Marinated Chicken Breast grilled and topped with mozzarella cheese, house bruschetta, balsamic glaze, lettuce, and parmesan.  Served with Pub Fries.
Shaved Prime French Dip
Slow roasted Prime Rib on a French Loaf topped with Mozzarella, Swiss, Cheddar, or American.  Served with Pub Fries.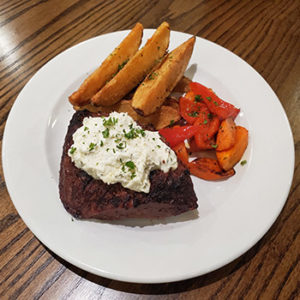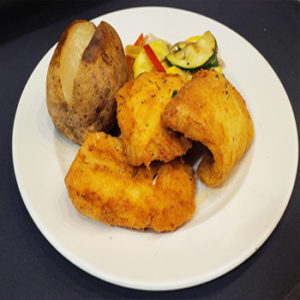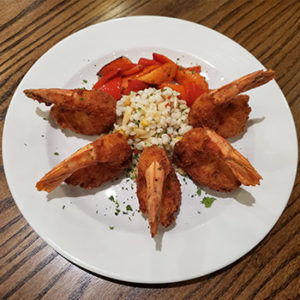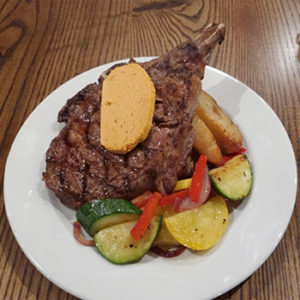 All entrees are served with choice of soup or salad, rolls and butter, choice of potato du jour, and daily chef's vegetable.
~ Upgrade To A Wedge Salad  $3 more ~
*Whether dining out or preparing food at home, consuming raw or under cooked meats, poultry, seafood,l shellfish or eggs
may increase your risk of food borne illness.
Ribeye Steak
14oz. Ribeye grilled and topped with roasted garlic butter.
Bone-in Ribeye Steak
22oz. bone in ribeye, with roasted garlic compound butter.
New York Strip
Tender 12 oz. New York Strip Steak with garlic butter.
Filet Mignon
10oz. or 6oz. Tenderloin grilled to perfection, with roasted garlic butter.
Canadian Salmon
Grilled 8oz. Fresh Canadian fillet with a citrus compound butter
Broiled Shrimp Scampi
Colossal shrimp broiled in a roasted garlic butter.
Lobster Tails
Two 6oz. cold water tails served with clarified butter.
Citrus Saffron Scallops
Pan seared scallops finished with a citrus compound butter, saffron, garlic, and heavy cream.
Surf and Turf
Grilled 6oz. filet with your choice of 3 beer battered shrimp or a 6oz. cold water lobster tail.
2 piece / 4 piece
Full Rack  1/2 Rack
2 piece broasted & 1/2 Rack
Add a Lobster Tail to any Entrée  /  2 Fried Shrimp to any Entrée  / Sauteed Onions & Mushrooms Additional
TUESDAY - SATURDAY

4:30pm TO Close

How May We Help You?
Let us know if you have any questions!