About Us
The Broken Spur Steak and Seafood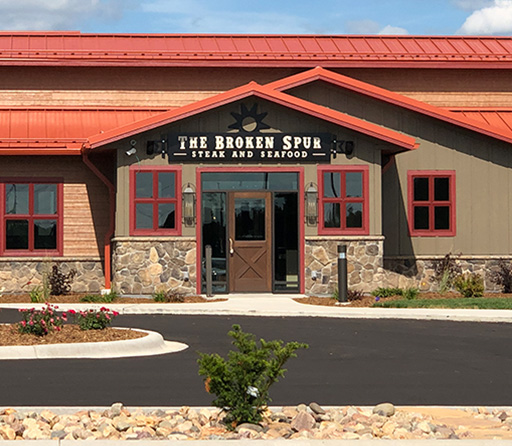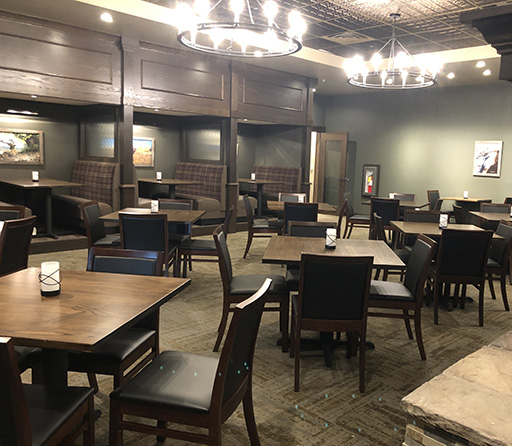 The Broken Spur Restaurant first opened its doors in August, 2019.  It has been a life-long mission to give back to the community as much as the community has given to the Brunner family.  The Restaurant and Full Service Bar was designed with a classy, rustic atmosphere.  It's casual fine dining at its best.
Owner Ron Brunner decided it was time that Mauston have a place large enough for local weddings and business meetings. Brunner said the hotel enables Mauston to host events currently too large for the city, and typically only seen in Wisconsin Dells. "Over the years, we could never find a place for a large party," Brunner said. "When my daughter got married we had to go to the Dells… Mauston really needs something and I've been lucky enough to be able to do it."
"Mauston really needs something and I've been lucky enough to be able to do it.""
Ronald Brunner

The Lodge At Mauston, Two Elks Event Center and The Broken Spur Steak and Seafood
The Lodge At Mauston is the newest edition to the Greater Mauston area.  The wood trussed, vaulted ceiling lobby accented with a majestic stone fireplace, 3 stories tall, and heavy timber rafters, creates an air of luxury that is undeniable. The Two Elk Event Center will be perfectly suited for large parties, business conferences, meetings, and weddings. The 61 up-scale units, featuring balconies, fireplaces, extended stay amenities and walk-in showers will grace visitors with a comfortable, welcoming and cozy atmosphere. Warm wood tones and rustic influences are felt throughout the hotel and seamlessly meld modern luxury with the feel of the western frontier. Guests can take a refreshing dip in the indoor pool, feel the burn in the fitness center then soothe stress away in the hot tub. When it is time for lunch, dinner or a company event, The Broken Spur Steak & Seafood Restaurant will be a sophisticated experience in fine dining, perfect for bringing a wonderful day to an end or spark the beginning of an epic evening at the full service bar.
The Menu
We want our guests to be happy.  Our menu is carefully designed to give you the experience that keeps you coming back time and time again.
Fresh Ingredients
We purchase only the freshest ingredients and cook them to enhance.
their intrinsic flavors.  Great ingredients make great food!
Tasty Meals
It's our turn to cook!  We offer a menu with mouth watering steak and seafood that will keep you coming back for more.  We pride ourselves with just the right amount of food that will leave you satisfied.
Creative Chefs
Our Chef,Tony has many years of cooking his famous signature meals with a twist.  His plates are carefully put together to please all of our guests not only with appearance but with great taste.
Authentic Cuisine
It is important to uphold our standards with every bite you take of our Authentic Cuisine.  Whether it's steak, seafood or a salad, our food preparation is handled with care.
Full Service Bar
Thirsty?  We offer a full bar of wine, beer or mixed drinks that will pare up nicely with your entrée of choice.  Not to mention, great spirits and a staff ready to serve you.

"Highly Recommend This Place"
"Beautiful facility, great food and excellent staff. The steak is SO tender and tasted great and the potatoes and vegetables were wonderful too. Fantastic. I highly recommend this place."
~ Joy Schroeder

"Wonderful Service, Awesome Experience"
"This place is great for a nice evening meal for two or a great place to have cocktails! The service is wonderful! You will pay a little more for this awesome experience but well worth it. Try the steak the best around here made to perfection! "
~ Nicole Lyddy

"Excellent Food & Very Fast Service"
"Excellent food and very fast service! Ordered the Fish Fry special and was not disappointed. The chocolate cake for dessert was mouth watering. Our waitress was awesome and kept making us laugh, we can't wait to go back!"
~ Aly G

"My second time at the Broken Spur. Awesome! Food is outstanding. Service was great. Might have to splurge on myself once a week. Been thinking about this place since my last visit! I'll be back!"
~ Debbie Farr
MONDAY - SATURDAY

4:30pm To Close

Reservations for the Broken Spur are recommended on week nights, and necessary on Fridays and Saturdays.
How May We Help You?
Let us know if you have any questions!